6 Leading Shopping Markets in London for Fashionistas
London and fashion go hand-in-hand. There is no comparison to London when it comes to fashion. If you are a fashionista, you just cannot miss out these shopping markets in the city.
Spitalfield Market:
From fashion jewellery to trendy clothes, from organic food to homewares, Spitalfield Market is simply an ideal destination to go shopping in London. With an extensive range of London shops boasting something or the other, Spitalfield Market certainly possesses loads to see and buy. If you are visiting Spitalfield Market, make sure it is Sunday. Sunday is just the best day to buy stuff that are in vogue.
Walthamstow Market:
Visit the longest street market in Europe when in London. As you explore London, you will certainly come across Walthamstow Market teeming with costume jewellery, shoes and clothes. Stalls selling the best of products are on display.
Whitechapel Market:
Another reason why Whitechapel Market is so popular in London because it is a popular Asian market in the city. Check out the most fashionable Indian stuff, such as cotton saris, silk saris, fabrics, clothing and jewellery at the best rates.
Portobello Road Market:
Stalls and enclosed arcades are superbly adorned Portbello Road Market. The market is just vast.
Greenwich Market:
In Greenwich Market, visitors will find a great range of traditional stuff to buy. People who are interested in original artwork and handmade craftwork will get attracted to Greenwich Market. Not finding an interesting thing to buy? No problem, this particular market is blessed with a generous number of London bars and restaurants.
Brixton Market: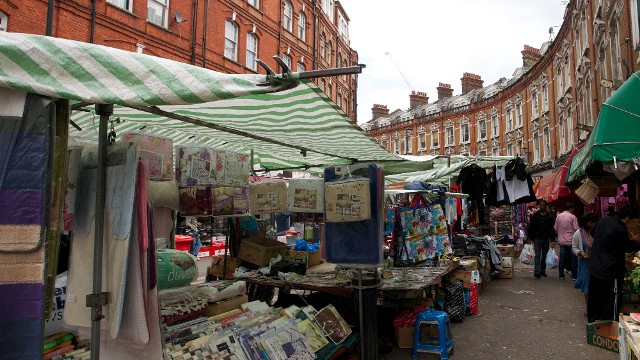 Ever fascinated towards African and Caribbean spices, vegetables, fruits and foods? If yes, the Brixton Market is calling you. Apart from great foods, you will find traditional arts and crafts that will simply mesmerise you.